On Friday 25 June, Brazil Fund announced the list of projects selected for the 2021 call for applications – Moving Forward with Rights. There are 20 initiatives in 13 states, in all five regions of Brazil and they will receive R$40 thousand each.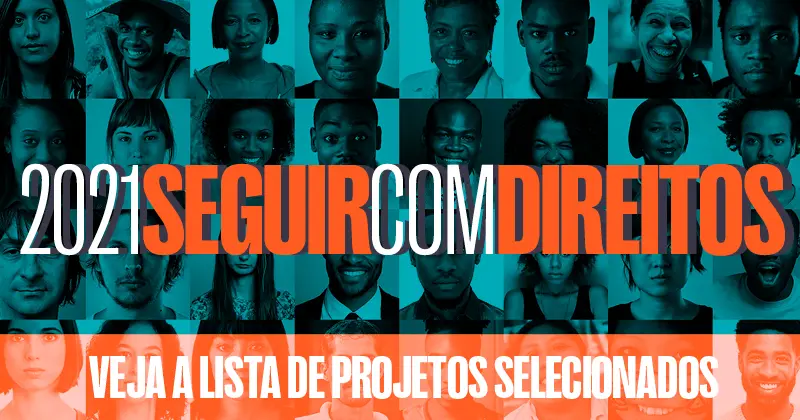 2021 – Moving Forward with Rights is Brazil Fund´s 14th general call for applications. This is the foundation´s most wide-ranging line of support and covers a broad range of causes and strategies for tackling institutional violence and the many forms of discrimination. For the first time in 14 years, this programme is aimed at institutional support, in other words, at maintaining the work that the organisations, collectives and groups are already doing. 
Brazil Fund, is giving priority in this programme, to supporting the initiatives of grassroots groups with little or no access to other resources. Around one thousand proposals were received. 
See below the list of the selected projects:
| | | |
| --- | --- | --- |
| Group/Collective/Organisation | State | Region |
| Black Womens´ Collective in Paraíba | Paraíba | North-East |
| Representation of the Indigenous Women of Ceará | Ceará | North-East |
| Representation of Black Women of the Baixo Sul-Bahia | Bahia | North-East |
| Angelim II Quilombola Association | Espírito Santo | South-East |
| Indigenous Association of the Araguaia Valley | Goías | Centre-West |
| Association for the Defence, Support and Citizenship of Homosexuals in Crato | Ceará | North-East |
| Margarida Alves Collective for Popular Assistance | Minas Gerais | South-East |
| Regional Committee of the National Movement for Collectors of Recyclable Material | Amapá | North |
| Ribeirinho Council | Pará | North |
| ECOS Communication and Sexuality | São Paulo | South-East |
| Escalar – Collection for Popular Technical Assistance | Bahia | North-East |
| Guiding Star | Santa Catarina | South |
| Grieving Mothers of the East Zone | São Paulo | South-East |
| Marias do Quilombo – Pará | Pará | North |
| Movement of Women Farm Workers | Rio Grande do Norte | North-East |
| Movement of Fishermen and Fisherwomen | Piauí | North-East |
| Marajó Observatory | Pará | North |
| Baniwa and Koripako Organisation | Amapá | North |
| National Network of Black Women in Combatting Violence | São Paulo | South-East |
| Trade Union of Rural Workers of Brasileia | Acre | North |
The Selection Process
Brazil Fund selects projects using a methodology that prioritises an activist approach, with relevant activities in the different areas of human rights. 
The first round of selection is to screen and verify the suitability of each proposal regarding the focus of the programme.
Next, Brazil Fund calls in an external, independent Selection Committee. The members of the 2021 call for applications – Moving Forward with Rights were: Ana Paula Rosário, of the Odara Institute for Black Women and the channel Corpo Político (Political Body) (Bahia); Andrey Lemos, of the National LGBT Union (Federal District); Bia Onça, Director at Casa das Pretas (Black Women´s House) – Centro Coisa de Mulher (Women´s Issues Centre) (Rio de Janeiro); Carolina Motoki, who works at the Comissão Pastoral da Terra (Pastoral Land Commission) (São Paulo); Guilherme Gomes Ferreira, LGBTQIA+ activist (Rio Grande do Sul); Paulo Pankararu, indigenous lawyer (Pernambuco/Saõ Paulo); Rosenilde Gregoria, of the Inter-state Movement of Coconut and Babaçu Shellers  (Maranhão); and Sabrina Mesquita do Nascimento, researcher in Amazônia (Pará).
"Vulnerable communities are currently experiencing an intensification in the conflicts they face." Said activist, Andrey Lemos. Talking about the task of selecting 20 projects from a large number of proposals he said: "In addition to the criteria set out in the call for applications itself, we also considered the promotion of the broadest possible diversity among the proposals put forward for support: ethnic-racial, gender, urban-rural and topical."
The Selection Committee  the projects to receive support. The final decision is made by Brazil Fund´s Board of Directors.
For Jurema Werneck, president of Brazil Fund´s Board of Directors, the general programme "has an element of investment, of banking on the work of the grassroots groups of civil society and this is the richness and relevance of the programme."
More about the result
The North-East region, with 7 selected proposals (2 in Bahia, 2 in Ceará, 1 in Paraíba, 1 in Piauí and 1 in Rio Grande do Norte) has the highest number of projects approved. 
Next came the North with 6 (3 in Pará, 2 in Amazonas and 1 in Acre) and the South-East with 5 initiatives selected (3 in São Paulo, 1 in Espírito Santo and 1 in Minas Gerais). 
Goiás in the Centre-West and Santa Catarina in the South have 1 project each.
The 2021 programme – Moving Forward with Rights will support: groups that defend women´s rights; groups that tackle racism; groups that defend the rights of indigenous people; groups that defend quilombola and traditional communities; groups that fight for fair sustainable cities; groups that defend free sexual orientation and gender identity; groups that defend land and territory and that guarantee the rule of law. 
It should be noted that all the projects converse with the current understanding that it is necessary to adopt an interdisciplinary approach to the different kinds of human rights violations taking place in Brazil. As such, they cover a number of themes for promoting human rights.